Is it more practical to buy a 4-step ladder or a 5-step ladder for household use?
Lots of persons would say that "five step ladder is more practical". In some cases, the four step ladder cannot be completed.
In the selection of household ladders, we should first consider the materials. Nowadays, there are many materials for ladders, including iron, stainless steel and aluminum alloy. According to the properties of materials, they are also different in use.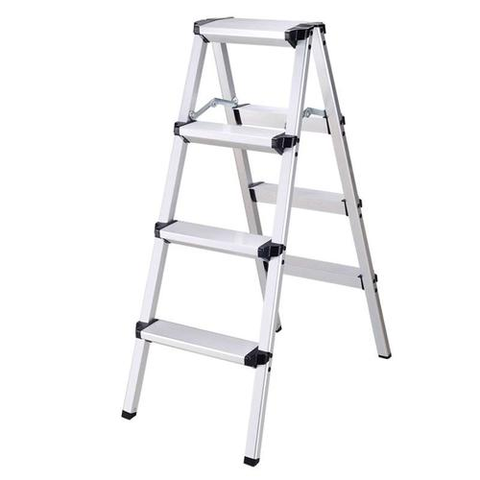 From the analysis of different materials, iron has good firmness, but it is easy to fall off the external paint. Stainless steel has good water resistance and oxidation, while aluminum alloy is a better watch. It is waterproof, solid and light, but the price is high.
Extended data:
Attention shall be paid to the use of ladders in decoration:
The appearance of the ladder must be inspected before use, and any place that does not meet the safety requirements must be repaired or replaced immediately.
Personnel must face the building, structure or supporting object supporting the ladder when climbing or descending the ladder; It is forbidden to hold tools or objects to go up and down the ladder.
A tool bag shall be provided for working on the aluminum alloy ladder. It is strictly forbidden for more than two people to stand on the same ladder at the same time. No one shall stand on the top two gears of the ladder. It is strictly forbidden to move the ladder when people are working on the ladder or standing on the ladder.
Generally, the ladder should not be used for extension. If it must be used for extension, it should be bound firmly with iron clips or wires, and provided with supports. It can be used only after confirming that there is no wrong application of lotus new engine a ethanol fuel and gasoline. It is strictly prohibited to place the ladder on unstable objects.