It turns out that the ladder can also be used in this way, brushed and painted on the wall, which can be both decorated and stored, too worth it
If a home is to be decorated better, it always needs some soft decorations for decoration. For soft decorations, Delxo suggested that you don't have to stick to buying, and it is also possible to transform old things around you. I wonder if there are such old things in everyone's home?
Ladder, a kind of "forgetting" that has been forgotten by everyone. Delxo just wants to say, if you have this kind of ladder in your home, don't throw it away again. It's useful to renovate it a little and use it in the decoration of your new home: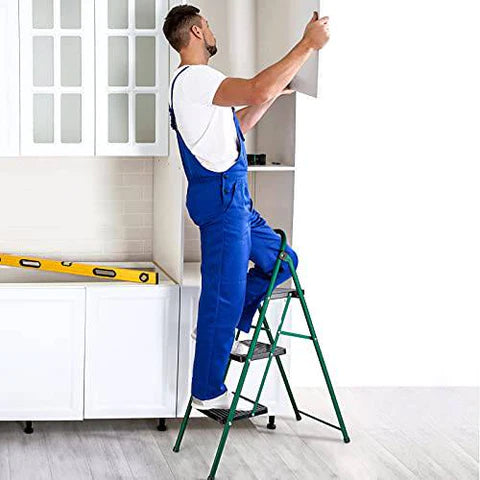 Make a lamp stand
It's your own home, and it's good to make some changes occasionally when decorating. Brush the ladder with varnish, use it as a lamp stand, and hang some small lamps on it. The effect is not bad.
It is worth mentioning that whether your lamps are retro, fashionable, literary, simple, etc., rest assured that wooden ladders can form a good match.
The wooden ladder is transformed into a lamp stand. Since it can be used indoors, the indoor use effect is naturally not bad. If it is only used indoors, it is necessary to treat it with moisture and corrosion, and it is necessary to brush it with varnish.
Storage rack for pots and pans
Storage and racks are indispensable in life. Instead of spending hundreds of dollars to buy them, it is better to transform the wooden ladder at home, find a suitable place, hang it on the ceiling, and use some hooks, so that the pots and pans in the kitchen don't have to worry about having no place to put them.
To avoid the influence of oil smoke and hot air, it is more appropriate to stay away from the side of the gas stove, the sink or above the island platform when hanging. If you want to add more storage, you can also put some storage baskets above the ladder.
3, fixed on the wall as a bookshelf.
It can be fixed on the wall as a bookshelf or display stand. Display stand, you can put some photos or lighter decorations. If books are placed, they will be heavy, so the walls must be fixed firmly.
There can be many styles, such as this and that ↓
Of course, if you are a better craftsman, then the following one can be a good choice ↓
Make it into a clothes hanger
As shown in the above figure, use two weights as two sides, and design the middle according to your own preferences to make a clothes hanger. Whether it is placed in the porch or in the bedroom, it is more appropriate. Hanging clothes, shoes and hats are not a problem.
Of course, in order to further enhance the face value, you can paint it and fix it on the wall surface, so that every step is a small clothesline, and a box at the top is still stored. A good reference case for the renovation of old buildings. If you also have this kind of old ladder in your home and feel that such renovation is also good, you can learn to get it.