Hydroponic cucumber save labor and high yield, but it is difficult for farmers to grow successfully? 3 things to do well in gardening
Many farmers want to try hydroponic cucumber, but they always hear others say that hydroponic melons and fruits have low yield and poor taste, so they have no confidence in planting. In fact, many people do not have a comprehensive understanding of hydroponic culture. Hydroponic vegetables have many advantages, but they also have high requirements for planting technology. The yield and taste of vegetables are determined by many factors, and no mistakes can be made in all links.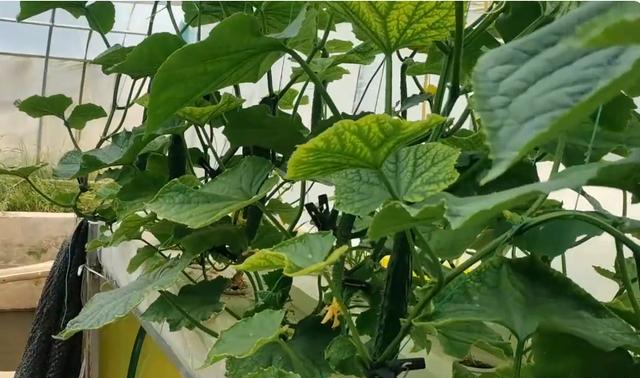 Hydroponic cucumbers never have to worry about continuous cropping. Compared with soil, they have won at the starting point. Some farmers planting blindly, field management, water and fertilizer management can not keep up, which will affect the yield and quality. There are two aspects to consider when novices plant cucumbers in hydroponic mode:
Choose the right hydroponic method
Some farmers asked whether deep liquid flow or shallow liquid flow should be used for hydroponic cucumber? These are two hydroponic models, which are classified according to the depth of nutrient solution. Generally, melons, fruits and vegetables are planted in the way of shallow liquid flow. The nutrient solution is relatively shallow and less. Cucumber roots require high oxygen, so we use shallow liquid flow method when planting.
In the hydroponic tank, part of the root system absorbs nutrients in the nutrient solution, and the remaining part of the root system, exposed in the air, can absorb some oxygen. Therefore, the method of shallow liquid flow when planting cucumber can not only ensure the absorption of mineral elements, but also solve the problem of insufficient oxygen.
Maintain the root system
If cucumber wants to have high yield, a huge root system is the foundation. It should not only grow healthily, but also prevent root diseases. Hydroponic cultivation solves the problem between water and oxygen, which is more conducive to root growth. It can not only see the growth of upper plants, but also observe the growth of roots, and can be adjusted in time when there are problems.
First, the secret of good cucumber root system is to add Shanghai algal essence when starting nutrient circulation after planting, and then use it every 20 days or so. The purpose of using seaweed essence is to stimulate root growth and promote root health. After the melon is finished, more nutrients are needed, and the huge root system can continuously transport nutrients upward.
Second, many farmers find that the root is sticky, that is, there is a disease, which should be prevented during field management. When preventing and controlling root diseases, appropriate fungicides should be selected, which can not only prevent the invasion of fungi and bacteria, but also prevent algae, and at the same time, can not hurt the root.
Control fertilizer concentration
The root system of cucumber is not tolerant of salt. When applying fertilizer, the concentration of fertilizer should be controlled to avoid damage to the root system due to excessive concentration of fertilizer. Generally, the fertilizer concentration is controlled at 2 in the early stage. After meloning, the fertilizer concentration is controlled at 2.5, which is not a fixed value. It depends on the local water source.
Planting cucumbers in water has reduced the cost and increased the yield, and it will never worry about the problem of continuous cropping. It is also labor-saving to change crops. However, some farmers have not fully learned, so it is difficult to plant successfully. When novices learn hydroponic culture, the above three aspects are the basis of high yield, which farmers should understand.