Spring planting tips for gardening, add one more step before sowing, spread the seeds evenly, and the seedlings are neat
In the spring, the temperature has not yet stabilized, and many friends have started to grow vegetables. In March and April, there are often cold springs, and the temperature decrease affects the germination of seeds, so if you want to plant vegetables early in the spring, you need to cover the film or plant in the arch. Some farmers say that they are not worried about planting vegetables in the spring and not producing seedlings, but they are worried about uneven seedling emergence, and some places are thin and thick in some places after the emergence of seedlings.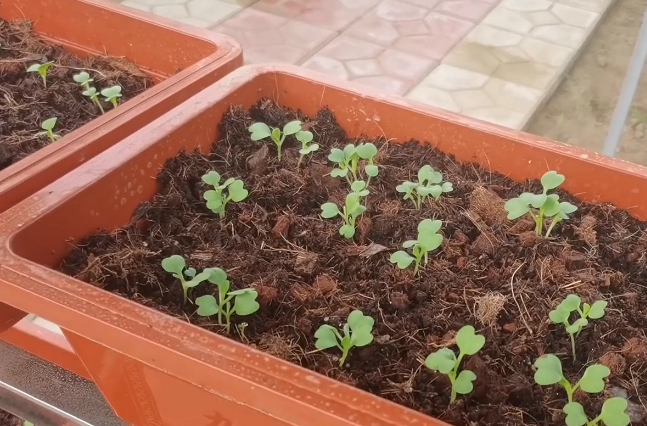 Uneven emergence of seedlings after sowing is common in the cultivation of lettuce, artemisia annua, and oil wheat vegetables. Because the seeds of green vegetables are relatively small and light, if the seeds are sown, some places may be sown in groups, and some places cannot be sown. Green vegetables are relatively easy to emerge from the seedlings, so it is easy to appear uneven emergence of seedlings, and it is necessary to carry out multiple seedling replenishment after emergence.
To solve the uneven emergence of green vegetables, the method is also very simple, as long as you add one more step when sowing. In general, the basic steps of our vegetable cultivation are fertilization, watering, sowing, and soil covering. Now we follow the original steps to add another step, before sowing, first mix the seeds with fine sand or grass and wood ash, and then spread them, so that the seeds can be evenly spread, the seedlings are also even, and the seedlings and harvests are more convenient in the later period.
Fine sand and grass ash can be mixed with seeds, the amount of use is not required, this has its own benefits, but it is best to use grass and wood ash when conditions are available. Fine sand is easy to find and will not be wasted, while grass and wood ash is relatively rare, but it has more effects. First, grass and wood ash is a very good potash fertilizer. The growth of leafy vegetables requires more nitrogen fertilizer, and the appropriate use of potassium fertilizer can improve the resistance of green vegetables and increase yield more obviously. Second, grass and wood ash has the effect of insect prevention and disease prevention, preventing underground pests from biting seeds after sowing.
Therefore, the use of grass and wood ash for seed mixing can not only facilitate the scattering of seeds evenly, but also provide nutrients. But when growing vegetables, there is one aspect to pay attention to. When applying bottom fertilizer, many farmers use chicken manure, human manure, sheep manure, etc., these manure is not recommended to be mixed with grass and wood ash, because grass and wood ash is an alkaline fertilizer, and after mixing, it will lead to a decrease in fertilizer efficiency. It is best to mix the manure and soil evenly, water it and sprinkle a fine layer of soil before sowing.
Mix the seeds well using grass and wood ash, and also need to cover the soil after sowing. The ash of grass and trees is relatively light, and after the seeds are dried, it will also affect the emergence of seedlings. Therefore, after sowing, cover a thin layer of soil to prevent the seeds from drying out. When the temperature is low, cover the mulch film, and when the temperature is high, build a shade net.
Leafy vegetable seeds are small, easy to dough when sowing, and uneven emergence of seedlings. Using fine sand or grass ash to mix the seeds well, and then sowing seeds can solve this problem very well, farmers can use this method, simple and practical.