Gardening product knowledge essentials
Living plants
Fresh plants are generally divided into foliage plants according to their growth characteristics: refers to the leaf-based ornamental, mainly manifested as leaf color leaf type with ornamental, mostly evergreen. - Flowering plants: refers to the ornamental flowers, which are manifested as ornamental flowers. - Fruit-viewing plants: refers to the ornamental focus on fruits, which is manifested as the ornamental nature of plant fruits. - Succulent plants: such as cacti, cactus balls, etc. belong to this type of plant.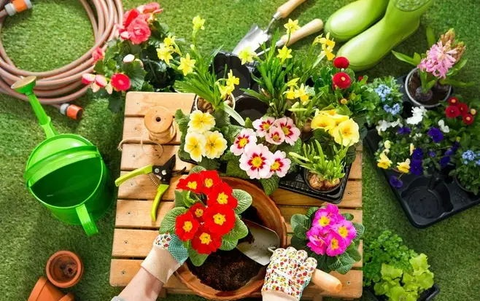 How to care for plants - watering: keep the soil dry and aerated in moderation, do not water the soil when it is not dry, water more when the weather is hot, water less when the weather is cold, water more when the plant grows, water less when dormant, water more when dry, and water less when wet. - Light: Shade-tolerant plants can be placed in the shade, and inverted plants should be properly exposed to more sunlight. - Fertilization: Fertilize more before growing and flowering to supplement nutrition, dormant and less fertilize during flowering. - Pruning and finishing: during flowering, long branches and excess buds can be properly removed, dead branches and diseased branches should be removed in time, insect pests should be sprayed to remove in time, and more loose soil. - Pot change: Some plants need to change pots regularly, common plants generally recommend that customers use acidic soil, and pot change is generally best in spring.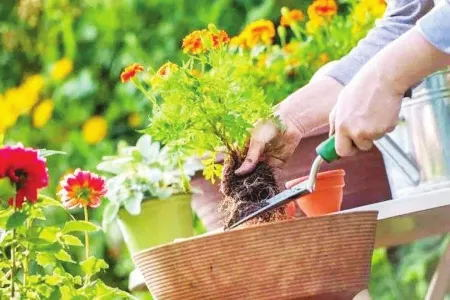 Frequently Asked Questions and Answers - Q: How to solve the defect of insufficient light in houseplants? - A: Some of the more light-loving plants can be placed indoors near the window to get close to the natural sunlight. - Small plants that are easy to move can be moved outside regularly to receive light. - Large plants can be irradiated by artificial light sources, generally decorative plants based on foliage are illuminated with white citrus lamps or fluorescent lamps for 10-15 hours, and flowering plants need 14-16 hours. - Q: What should I do if a plant finds dead branches or black spots on its leaves? - A: Germs caused by high temperature, excessive moisture, insufficient light, and poor ventilation. The use of drugs to cure without special effect, such as early detection can move plants outdoors, spray carbendazim or tolbutazine chemical agents.
Gardening tools
Gardening tools can generally be divided into - lawn mower: refers to the machine used to trim the lawn, can be divided into manual and fuel type. The fuel type can be divided into hand push type and self-propelled type. - Soil loosening tools: refers to a variety of tools used to trim the soil, such as: shovel, pickaxe, rake, etc., according to the number of soil mounds to be trimmed and fine degree into various models. - Trimming tools: refers to the tools used when pruning plants, which are divided into various types according to the different pruning objects. For example: whole branch shears, fence shears, hand saws, flower removal scissors, fruit removal scissors, etc., the required strength is different, and the models and styles are different.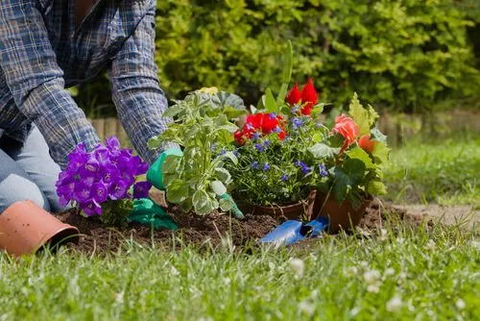 Precautions for choosing a lawn mower - You can choose to buy a manual lawn mower when the desired lawn area is small, a fuel mower when the lawn area is medium or large, and a self-propelled one when the lawn face is large or has a certain slope. Use and maintenance of lawn mower - The use of lawn mower should be carried out in strict accordance with the instructions, such as: removing foreign matter in the lawn before operation, equipped with labor protection clothing, measuring the height of the mow to determine the temperature and slope, etc., mastering the correct operation posture, and strictly following the steps specified in the instructions. - Maintain daily maintenance, use qualified gasoline, regularly clean the various parts of the lawn mower and the gasoline engine, regularly check the wear and tear of the blade, and replace it in time, park in a dry and cool place, and repair the failure in time.
Usage calculation
None
Add On Product Introduction ★
Plants and excipients (indoor and outdoor plants, artificial plants, fertilizers and flowers) Related products: ★ gloves, rags, art knives, blades ★ Gardening shovels Gardening kettles, buckets All kinds of ★ flowers Flowers and grass nutrient soil ★ Flowers and plants nutrient solution Flower pots Pot trays Barbecue oven Charcoal, bamboo skewers Barbecue tongs, clips, honey sweeps             
Wool brush glue gun dust removal cloth ★ Gardening kit tool Fine white back silk ★ Outdoor leisure table and chair Water transfer painting ★ Gardening water pipe gun B&Q PP household high pressure cleaner
Gardening equipment (lawn mowers, gardening hand tools)
Related products: ★ gloves, rags, art knives, blades ★ Gardening shovels Gardening kettles, buckets All kinds of ★ flowers Flowers and grass nutrient soil ★ Flowers and plants nutrient solution Flower pots ★ Pot trays Barbecue oven Charcoal, bamboo skewers Barbecue tongs, clips, honey sweeps           
Wool brush Press glue gun Dust removal cloth ★ Gardening kit tools Fine white back silk ★ Gardening water pipe gun Outdoor leisure table and chair
Garden furniture
Related products: ★ indoor and outdoor plants, potted plants ★ All kinds of fertilizer ★ Gloves, rags Art knives, blades ★ Gardening shovels Gardening kettles, buckets All kinds of flowers And plants Nutrient soil Flowers and plants nutrient solution Pots Pots trays Barbecue oven ★ Charcoal, Bamboo sticks ★ Barbecue tongs, clips, honey sweeps Mop Mowers Small lawn mower ★ Vases, ornaments
Garden decoration and flower pots, ornaments and gifts (vases, aquariums, etc.)
Related goods: ★ indoor and outdoor plants, potted plants ★ All kinds of fertilizer ★ Gloves, rags Art knives, blades ★ Gardening shovels Gardening kettles, buckets All kinds of flower species ★ Flowers and plants nutrient soil ★ Flower pots Flower pot trays             Barbecue grill Charcoal, bamboo skewers Barbecue tongs, clips, honey sweep fish worm feed Small shelves Outdoor small furniture All kinds of leisure chairs