Do you always grow well with hydroponic vegetables Share 3 tips for high yield, suitable for home planting in gardening
Hydroponic vegetables are becoming more and more popular, with low input cost and high profit. For example, when lettuce is planted, after the infrastructure is built, other inputs are very little. Because the growth cycle is short, it takes about 30 or 40 days from planting to harvesting. Ten crops can be harvested in a year, and the annual output is four or five catties, so the economic benefit is relatively high. Hydroponic vegetables can also solve the problems of continuous cropping and soil-borne diseases.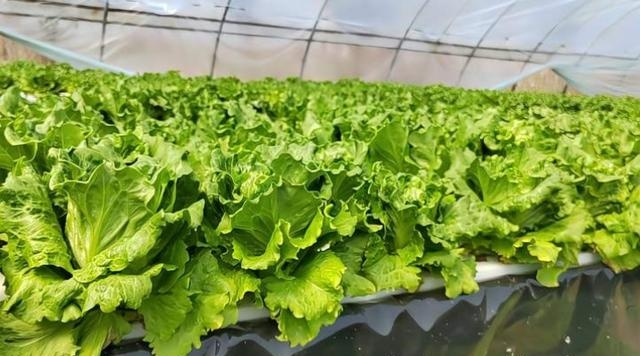 Many friends have also started to try home hydroponic planting, using water pipes or foam boards as planting tanks, which not only looks clean and beautiful, but also can eat fresh vegetables. Green vegetables are very suitable for family planting, especially for balcony planting. Many friends say that hydroponic vegetables always don't grow well. Generally, there are three problems that need attention:
Many friends don't know what nutrient solution to use when home hydroponics vegetables? Only nitrogen fertilizer is used to worry about the growth of vegetables, and it is not cost-effective to mix fertilizers yourself, worrying about the reaction between fertilizers, and using less fertilizer. When hydroponics vegetables, we only use all-element water-soluble fertilizer, which contains nitrogen, phosphorus, potassium, calcium, magnesium, sulfur and all trace elements. The nutrients needed for vegetable growth are relatively complete, so as to prevent deficiency of yellow leaves.
Total element water-soluble fertilizer is different from common water-soluble fertilizer, with complete nutrient elements and high utilization rate, which is more suitable for soilless cultivation. When in use, it is generally necessary to dilute the solution by 500 times with water. Strictly, it is more scientific to measure the fertilizer concentration with a detection pen and the pH value with a pH test paper.
Diseases often occur in hydroponic cultivation of green vegetables. Apart from foliar spraying, many friends don't know how to prevent diseases. For example, when planting seedlings, there are wounds at the roots, and the humidity is high, so the green vegetables are prone to bacterial soft rot. At high temperature, root rot often occurs. In management, prevent the occurrence of diseases.
First, the solution in the circulating pool should be disinfected, which can be sterilized by chlorobromoisocyanuric acid, or the bactericide in the fish farming industry, but it should be noted that the chemicals used can't hurt the roots. Second, spraying fungicides on leaves to prevent and control diseases, such as zhongshengmycin, mainly to prevent and control bacterial diseases.
Many friends say that when hydroponic vegetables are used, the root system will never grow well. Can you use rooting fertilizers? The root system of vegetables does not grow well, and some of them are because the root system can't breathe freely, so it is necessary to circulate water to increase oxygen and bring in air with the flow of water. There are some other factors that lead to poor root growth. Some seaweed extract can be used appropriately to promote root growth and stimulate the growth of upper leaves.
Some friends say that hydroponics is a seemingly simple planting method, but it is very difficult to plant. In fact, planting tanks and circulating pools are well built, with scientific nutrient solution, and water circulation and disease prevention are well done. After these points are done, hydroponic vegetables are simpler than soil planting, and there is no shortage of vegetables to eat.