5 unexpected uses for ladders
Forget to use ladders to save cats hiding in trees or to change burnt light bulbs! Ladders are ready for a whole new challenge to be used as lockers and display frames. Right away you'll know that ladders can also be used as bookshelves, hangers, nightstand. You'll never expect a ladder to use a new height.
Ladder books and newspapers don't let the old escalators in the house accumulate ash in the storeroom or garage. I started painting it with color paint, supported on one side of the room, and immediately turned into a retro personality report frame. Hang up all the newspapers you want to read recently so that you can review and save space!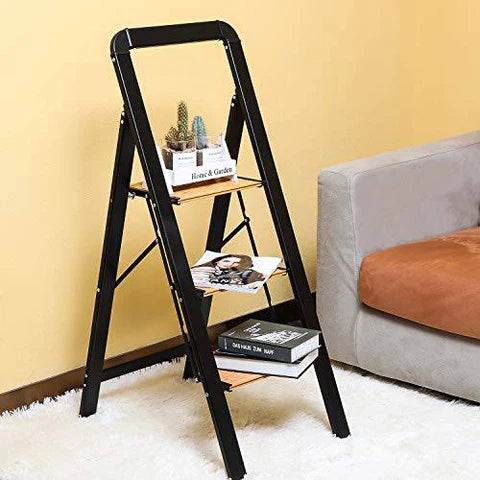 Let's get rid of the traditional nightstand with nothing new! Replace it with unexpected low ladders now. It's just right for a reading lamp, and it also provides enough space for everything you might need before you go to bed at night, such as a bedside book, a glass of water.
Why should the ladder display hide the fine printed scarves and beads in the dark wardrobe? Show them out with ladders that are idle at home now! Even if you are not a materialistic maniac, you can still use your favorite scarves and beads to match the color of the room. This wonderful idea will certainly make your best friend shout when she comes to visit: can the ladder still work like this?!
Must the ladder towel rack be put on a plate of metal shelves in the bathroom to hang towels? Try a ladder made of bamboo (or other absorbent material)! There is no need for any installation, simply support the wall. Bamboo and other materials naturally absorb water, more easy to dry towels, inhibit bacterial breeding. Bamboo, wood and other materials from nature make your bathroom space relaxed and happy.
Ladder cupboard is the time to bring the spirit of diy to the extreme! Let's make a "ladder cupboard" by hand, and the open decoration space is accessible to all the dishes and tools. Try it, it's really not hard-all the material is just a ladder and a plank more than 2 centimeters thick.
Step1 saw out the width of the plank according to the width of the ladder step; the length of the plank should be slightly longer than the width of the cross section of the ladder in order to maintain balance, and it would be more appropriate to leave about 15 centimeters at each end.
Step2 put the cut plank in the step room of the ladder.
In order to maintain the overall balance and stability, Step3 try to place the heavy objects in the middle of the plank, and be careful not to put things too far beyond the ladder.